The stylishly minimalist Art House London scented candles are the perfect for any home. These candles are lovingly hand poured in England using 100% natural plant wax with lead free cotton wicks for a clean, non-toxic burn. They are infused with the finest pure essential oils or premium fragrance oils which contain no harsh chemicals or colours.
There are eight different scents in the Art House London range. Two scents are made with 100% essential oils. These are Crushed Lavender and Twisted Rosemary. The other 6 scents are made of 100% fragrance oils. These scents include Blackened Pomegranate, Pressed Limeleaf, Rosebud, Shaved Sandalwood, Winter Bliss and Christmas.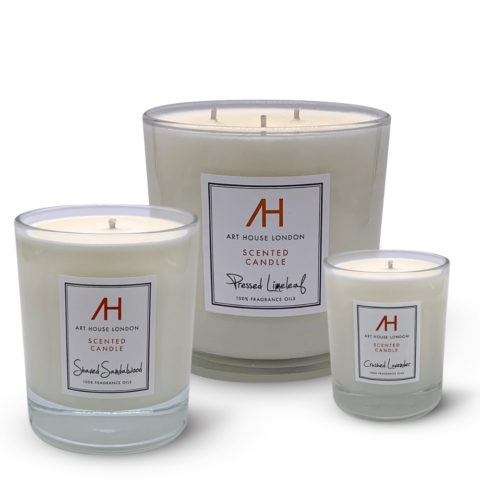 These Art House London candles are available in three sizes; travel size (90ml) which has a burning time of up to 30 hours and an RRP of £13.00, medium size (300ml) with a burn time for up to 60 hours and the RRP of £26.00, and a 3 wick (12cm x12cm) candle that burns for up to 100 hours and the RRP is £49.00.
All the sizes are presented in a vessel made from clear recycled glass. The two larger sizes come with a metal dustcover to protect the candle when it is unlit and to stand on when the candle is alight. The outer box for the candles is made from a high quality recycled cardboard and the travel size also comes with a branded hessian sack.
The scented candles are great and will fill your home with a wonderful aroma.