Pet Teezer have a fabulous range of brushes to help keep your dog's coat looking its best.  The brushes available in the Pet Teezer range include a de-tangling and de-matting brush, a de-shedding brush and a Puppy brush.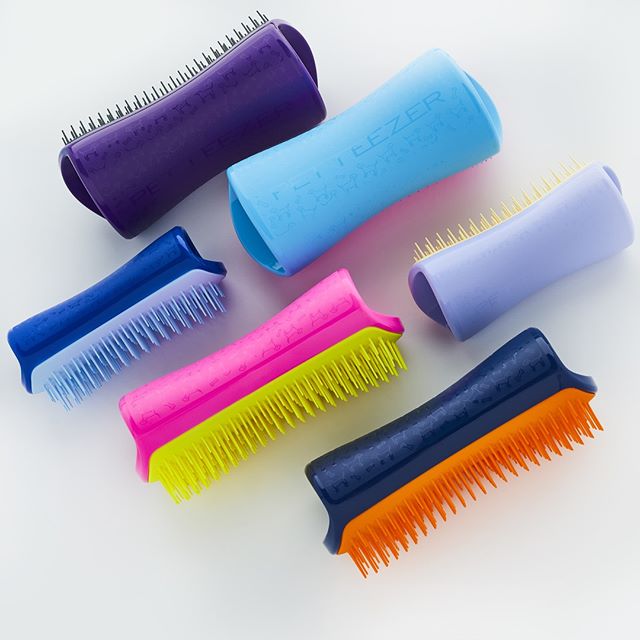 The Pet Teezer Range
The de-tangling brush is great for preventing matts in your dog's coat. This brush is great for detangling your dog's coat quickly and gently without any tugging or pulling. This brush uses a patented to-tier teeth technology. The long teeth in the brush gently removes dirt, reaching down into the undercoat, whilst the shorter teeth smooth the hair and help protect against matting. This brush makes light work of brushing and can be used on wet or dry hair.  This brush is available in Navy and Orange and Pink and yellow. The RRP is £12.00. 
Another great brush from Pet Teezer is the de-shedding brush. This palm-friendly brush is ideal for de-shedding double coated dogs. The ergonomic shape of this brush makes it very comfortable to hold and helps reduce wrist sprain whilst you are brushing your dog's coat. Like the de-tangling brush this brush uses a patented two-tier teeth technology. The longer teeth gently remove the dirt and the shorter teeth pick up any loose hair. This brush is available in a small size in a navy and blue colour. The RRP is £10.00. It is also available in a bigger size in a blue and pink colour. The RRP is £12.00.
Pet Teezer also have a puppy brush available so you can start grooming your puppy as soon as they come home to you. This puppy brush is a perfect introduction to grooming for your new puppy. It delivers the gentlest of brush strokes with soft-flex teeth that gently glide through the fur. This brush has the innovative two-tiered teeth that brush away skin flakes and encourage oil glands to develop without irritation. The RRP for this puppy brush is £10.00.
Pet Teezer have a great range of brushes that will help make grooming your dog easy.