As Autumn's chill begins to bite, we look forward to traditional celebrations associated with the season such as Halloween and Bonfire Night, as well as simply looking forward to the drawing in of the evenings cosying up with a warming bowl of soup.
But Autumn is also a time to invest in your health, warding off bugs as the winter approaches. As well as exercise, our health of course depends on what we eat, and little changes can make a big difference. Chia Seeds are the highest combined plant source of Omega 3, fibre and protein, as well as being high in vitamins, minerals and antioxidants, offering essential nutrition often missing in modern diets. The nutrients in chia can help to sustain energy, improve digestive and heart health, and encourage healthy hair, skin and nails. Chia is also fantastic exercise fuel, helping you stay hydrated, increasing stamina, and aiding in muscle repair. What's more, to reap all these benefits you simply need to add one tablespoon (15g) per day to your diet. Chia seeds are incorporated into the recipes below in celebration of Autumn so why not start today and improve your health in preparation for winter, but there's no harm treating your taste buds at the same time.
Banana & Coconut Ghoul Pops
Wave goodbye to sticky, sickly toffee apples – surprise the kids with these fun but healthy banana treats instead this Halloween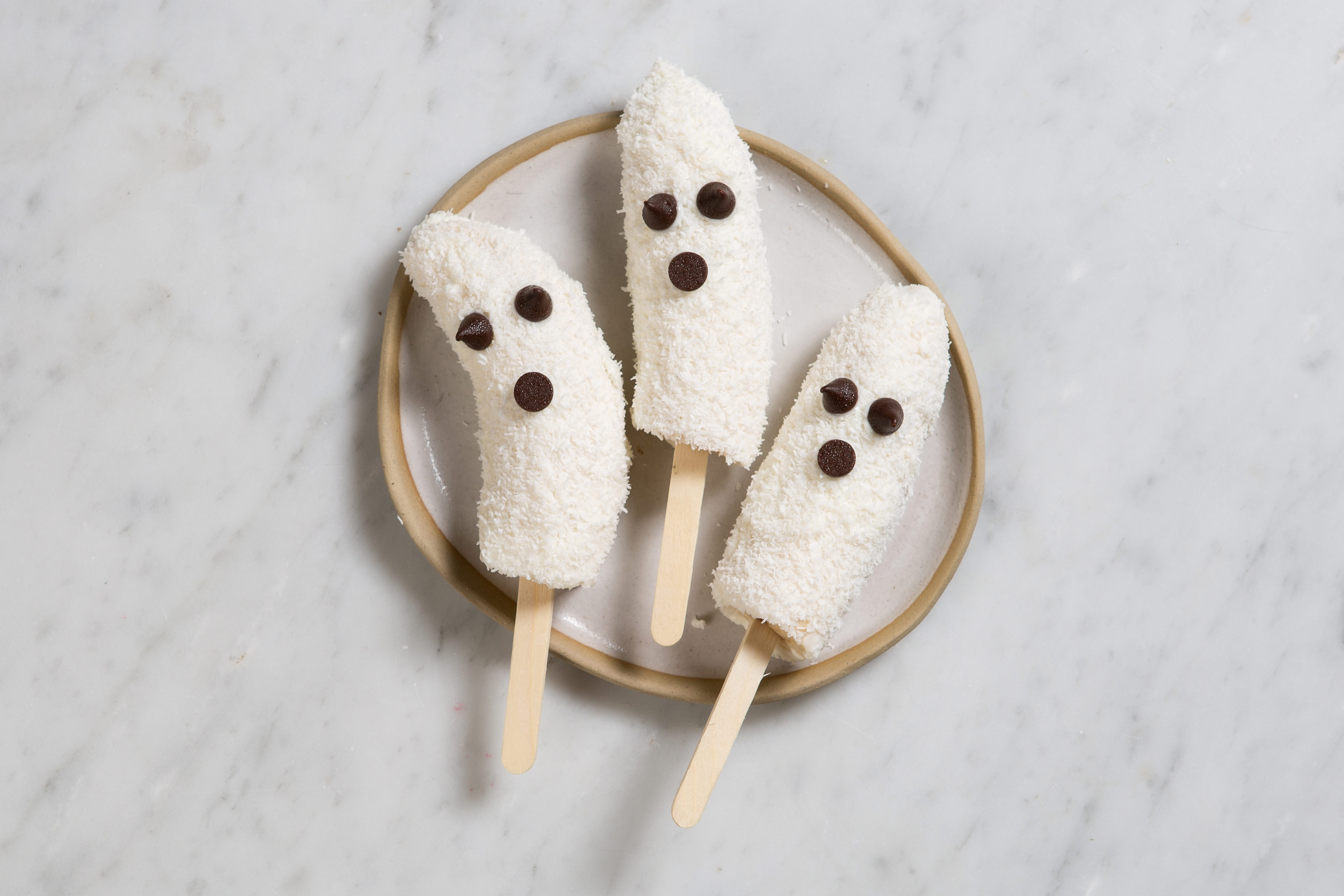 | | |
| --- | --- |
| Prep Time | 5mins |
| Total Time | 10mins |
| Serves | 4 ghouls |
Ingredients
2 large bananas
120g natural yoghurt
1/2 teaspoon vanilla extract
1 cup desiccated coconut
1 tbsp white chia
12 chocolate buttons
4 icy pole sticks
Method
Cut bananas in half and stick onto icy pole sticks. Put on tray and place in freezer for 30 minutes.
Add yoghurt & vanilla extract to a bowl, mix to combine. On a separate plate mix coconut and 1tbsp of white chia
Remove bananas from freezer. Using a spoon dip and coat bananas evenly with yoghurt.
Then dip to coat into the coconut and chia mix. Add chocolate buttons to create eyes and mouth.
Gingerbread Skeletons
Another fantastic recipe for the kids – fun to make and fun to eat while easily introducing chia seeds to their diet.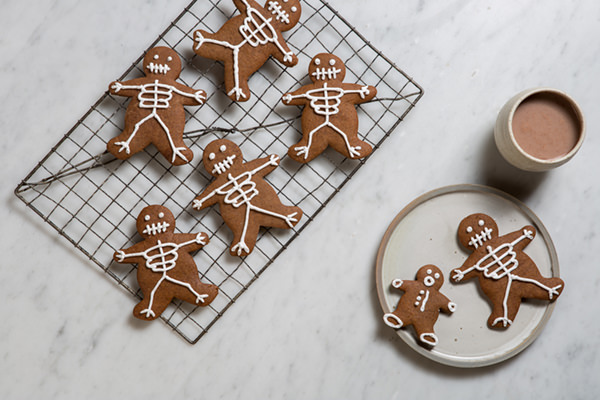 | | |
| --- | --- |
| Prep Time | 10-15 mins |
| Total Time | 30mins |
| Serves | 24 Gingerbread Skeletons |
Biscuits Ingredients
125g butter, soft
2/3 cup brown sugar
¼ cup maple syrup
2 ½ cup plain flour
1 egg
1 tablespoon chia seeds
½ teaspoon bicarbonate of soda
1 tablespoon ground ginger
2 tablespoon ground cinnamon
Icing Ingredients
1 tablespoon mixed spice
1 cup white chocolate buttons
Method
Preheat oven to 180°C/160°C for fan forced oven.
In an electric mixer, beat butter and sugar until light and fluffy. Add maple syrup and egg and beat until well combined. Sift flour, bicarbonate of soda, ginger, and cinnamon into the butter mixture, then add chia seeds. Using a wooden spoon mix all ingredients until just combined and a dough is formed.
Flour your work surface and knead gently until dough is smooth. Wrap the dough in cling wrap and place in refrigerator for at least 1 hour or until firm. Line a baking tray with baking paper and set aside
Flour your work surface again and roll out dough to about 5mm thick. Using a gingerbread man cutter, cut as many as you can and then repeat the step again until you have little or no dough left. Place the gingerbread men 2cm apart on your baking tray and bake in oven for 10-15 minutes. This is dependent on whether you want firm or soft gingerbread men. Take out of oven once done and allow to cool on rack.
In the meantime, melt your white chocolate buttons in the microwave for 30seconds or create a baine marie on the stove (in a small pot filling ½ way with boiling water, place the white chocolate buttons in a bowl and place on top of water, stirring until melted). Once cooled a little place in a piping bag and decorate your skeletons!
Pumpkin and Feta Tart
Make the most of Pumpkin season with this fabulous Pumpkin tart – great for sharing at a Halloween or Bonfire Night party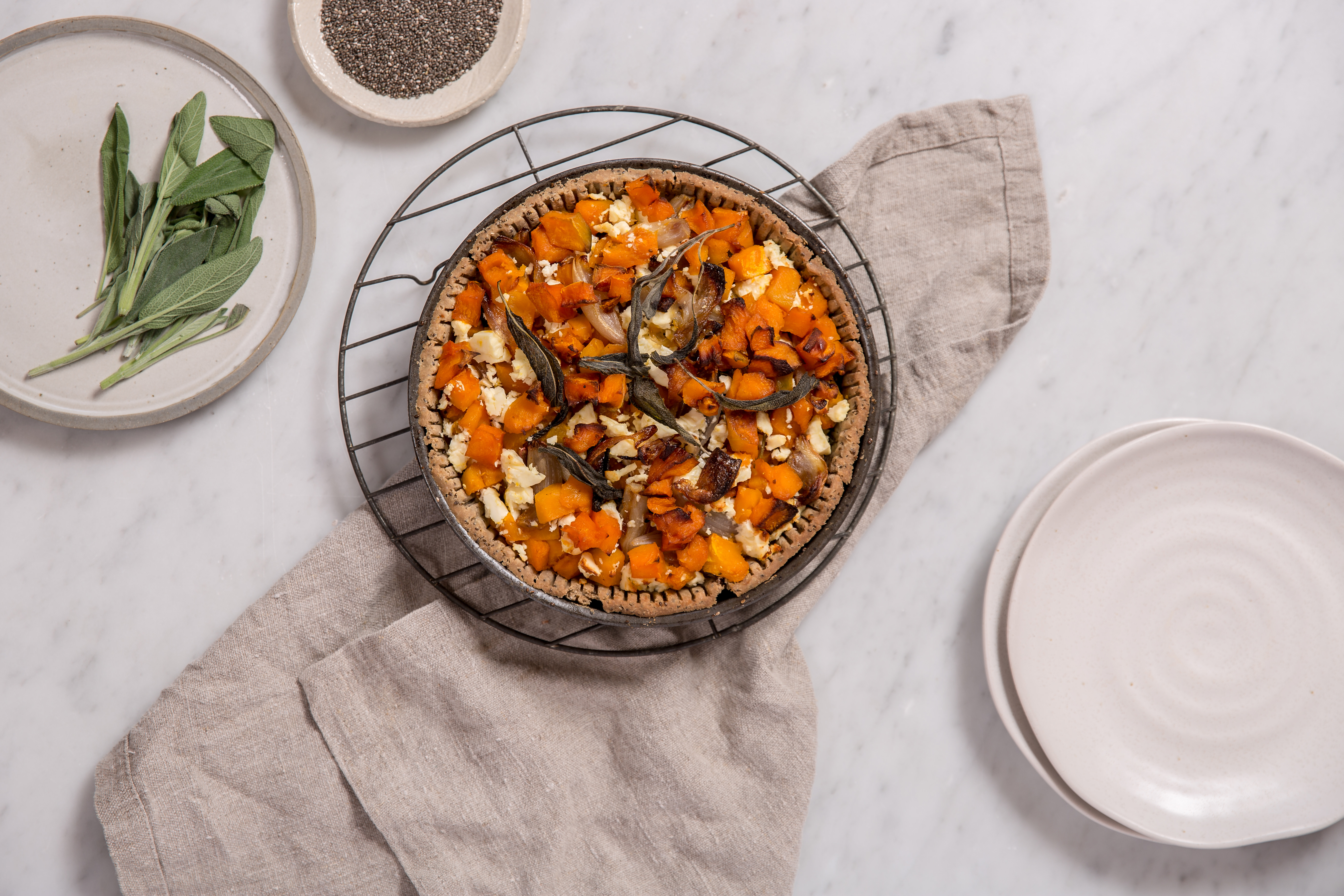 | | |
| --- | --- |
| Prep Time | 45 mins |
| Total Time | 1 hour and 30mins |
| Serves | 8-10 slices |
Ingredients
150g spelt flour
90g butter, cubed
30g chia seeds
1 egg
500g pumpkin cut into 1cm cubes
100g feta cheese, crumbled
8 shallots, quartered
4 fresh sage leaves, roughly chopped
Method
Preheat oven to 200° C.
Add flour, butter, chia seeds and a pinch of salt to food processor and blend until crumbly.
Add egg and blitz until the mixture comes together in clumps.
Turn mixture onto clean board and knead into round ball. Cover with cling wrap and set aside in refrigerator for 30 minutes.
Place pumpkin, shallots and sage on a baking tray and drizzle with Extra Virgin Olive Oil and bake in oven for 20 minutes, or until pumpkin becomes soft and golden brown
Remove dough from fridge and flatten with rolling pin. Place the dough over a loose-bottomed tart tin and trim the edges.
Blind bake pastry for 15 minutes.
Add feta to pumpkin and shallot mixture and spoon into tart base.
Bake in oven for 20 minutes, or until golden and cooked through.
Recipe by Joel Feren @the_nutritionguy.
Vampire's End
At this time of year, it's right to claim anything green and full of garlic as a Halloween dish after all what better way is there to ward off Dracula's advances!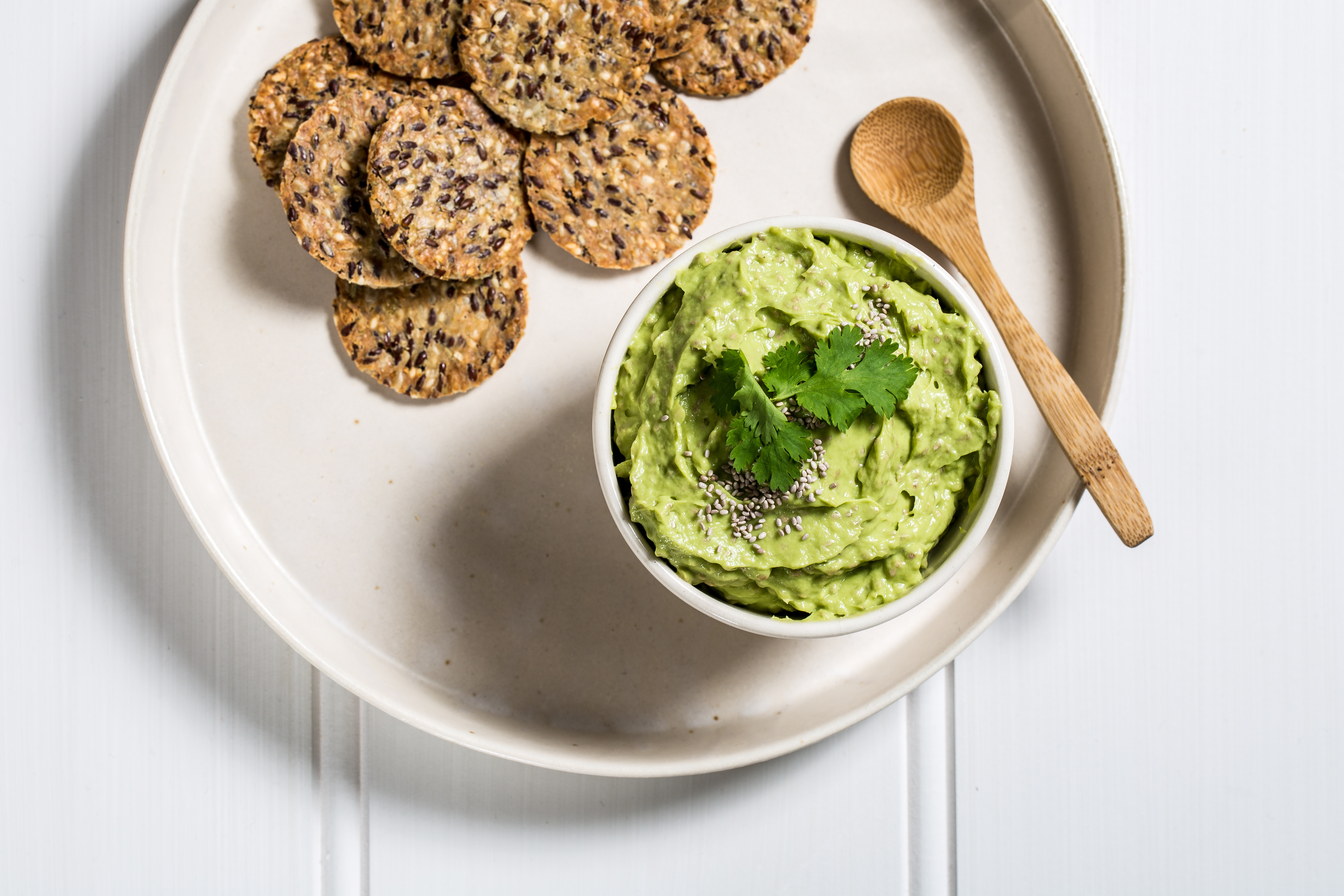 | | |
| --- | --- |
| Prep Time | 5 mins |
| Total Time | 40mins |
| Serves | 2-4 |
Ingredients
1 bulb roasted garlic
2 avocados
Juice of 1 lime
1 tbsp chia oil
1 tsp chia seeds
1/4 chopped coriander
Method
Preheat oven to 190 degrees.
Cut off the top of the garlic bulb and drizzle with olive oil. Wrap the bulb in tin foil and bake for 35 minutes.
After the garlic cools, squeeze the roasted garlic out of the cloves.
Add the garlic along with all other ingredients to the food processor and puree until smooth.
Add to serving bowl and enjoy with crackers or crisps.