Even though we are in Lockdown we can still celebrate Valentine's Day in style this year. Since staying in is the new going out, dressing the dinner table has replaced dressing up. Welcome to the art of tablescaping.
Duchess & Butler, a tablescaping company, have written their top tips for styling your own dinner table this Valentine's day, helping to make it a night to remember…
The Perfect Serve
Think about what you will be serving for dinner as you'll need to make sure that you have suitable dinnerware, cutlery and glassware for all your courses and, also, how much space will be needed on your table. Buffet style platters on the table usually take up valuable design space for décor so our advice would be to serve off-table and bring plated dishes where possible. This also has the added bonus of making your other half feel like they are being waited on.
Research
Pinterest and Instagram will be your best friend on your journey to becoming a pro at tablescaping. Spend a little time on social media scoping out some ideas for your own design. Look at different colours and themes to help choose your very own design.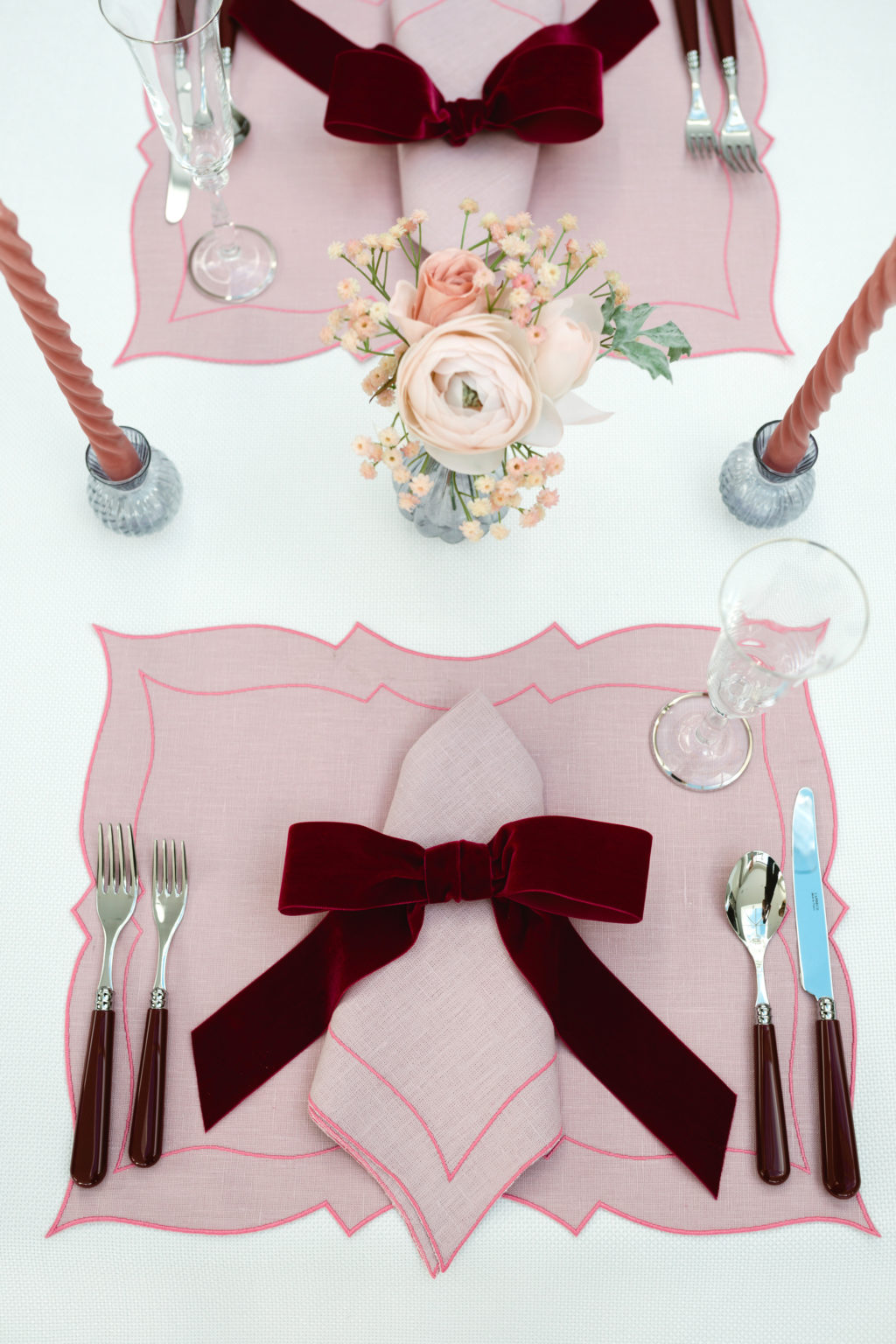 Theming
Tablescapes can be designed for any occasion, around any theme and for any number of guests. Just because there are only two of you, don't let the opportunity pass to create something really beautiful.
Before creating your design, think about the colour palette or theme you want to use to create the desired mood. Choose a colour palette that is either themed to your romantic night in or that your date loves. A key tip when thinking about your colour palette is to balance deeper tones of your colour scheme with some of your more paler ones so that you get that extra depth of tone in your design. If you've chosen red for Valentine's day for example, add in a splash of blush pink to give you a richer colour palette and you'll see how much more alluring your tabletop will look. For those new to tablescaping it's probably best to work with different hues in one chosen colour.
When you have chosen your colour theme, a good starting point is to work out what you already have in your cupboards and build your theme around this. White crockery is a staple that most us have in our homes and you can add in pops of colour with all the other tabletop accents like napkins, placemats, colour candles and decorations.
Tablecloth
Luxurious touches are what will set your tablescape apart from your every-day table setting and adding table linen will elevate your whole look and feel. Treat the tablecloth as the canvas for your design. If you are able to get a coloured tablecloth to complement your colour theme, that will really help create a stand-out design otherwise use white linen and bring in some elements of colour with all the other tabletop décor.
Layer
A simple trick that is favoured by tablescapers is to layer, layer, layer… stack your dessert plate onto your dinner plate and, if you are having chargers or placemats, place your layered dinnerware on top of these. You'll see an instant transformation in your place settings. Next, figure out where your napkin will be positioned; it's also a key element of your layered look. For a little bit of extra height, fold or knot it and position it on top of your stack otherwise arrange it into a long, rectangular fold and have it cascading from in between your dinner plate and dessert plate.
The much loved "plate stack" actually works just as well (and sometimes better) with different style plates too. Keep both stacks identical on each side but don't be afraid to try a different style plate for your dessert plate for instance if you have one. Have fun playing around with each combination and see which one you prefer.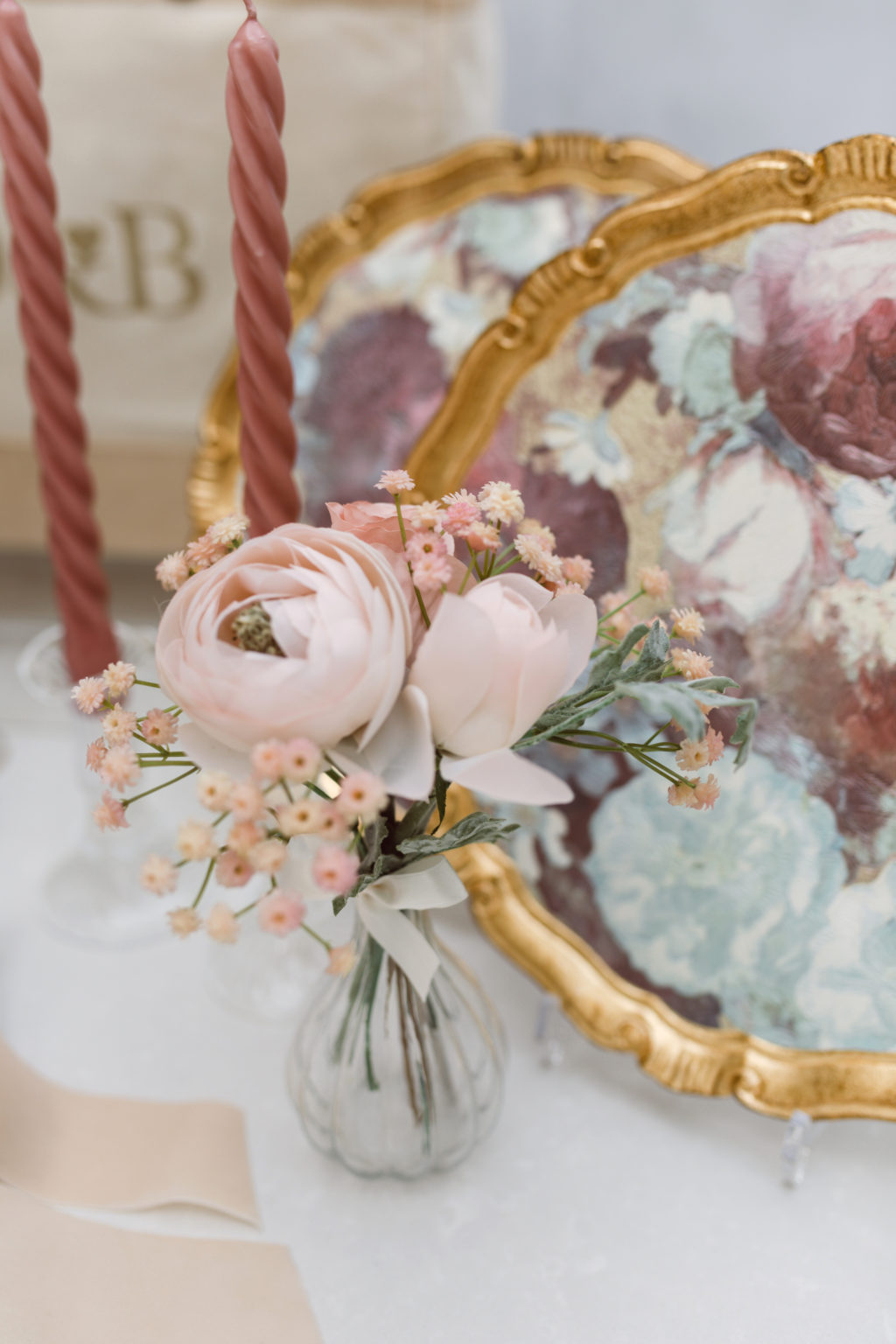 Florals
The real secret to a beautiful table is to create some depth with abundant layers and textures. Using flowers and foliage will enhance your design and bring some romance to your table. The most cost effective way is to buy the stems separately and arrange yourself. Add blooms that compliment your chosen colour palette and tabletop accents. Loose, delicate blooms unevenly arranged in a small vessels of varying heights is the easiest way to go; these will add a romantic touch to your tablescape and won't require the artistry skills of a seasoned florist! Using the same flowers and foliage, the key here is to keep each arrangement uneven both in terms of the number of flowers and also the overall height. Don't be afraid to mix and match different styles of bud vases however we recommend sticking with clear bud vases as these are the most versatile for tablescaping.
Whimsical Heights
Using decorative objects of varying heights within your design will give you a more finished and considered look. Treat every tabletop item as a design feature and think about how they all look when they are sitting together. Adding different height glassware, floral arrangements and candlesticks will create an extra dimension and set apart your table from the usual dinner time experience.
Lighting
Candles are the ultimate way to create an atmosphere and, tall, tapered ones feature in any tablescaper's go to design kit. Not only will they add a beautiful glow to table, they are a fabulous way to add some relatively cheap additional colour, height and dimension to your design. Don't forget to choose candleholder that will work with your look.
It's all in the details…
Details really do matter when crafting a tablescape so think about those extra little design touches that you can bring to your tabletop like tying a coloured ribbon round a napkin for instance or an extra stem laid on top of each napkin for an added decorative accent. Add a menu and a personalised message to your dinner date on coloured card for another little heart-skipping design detail.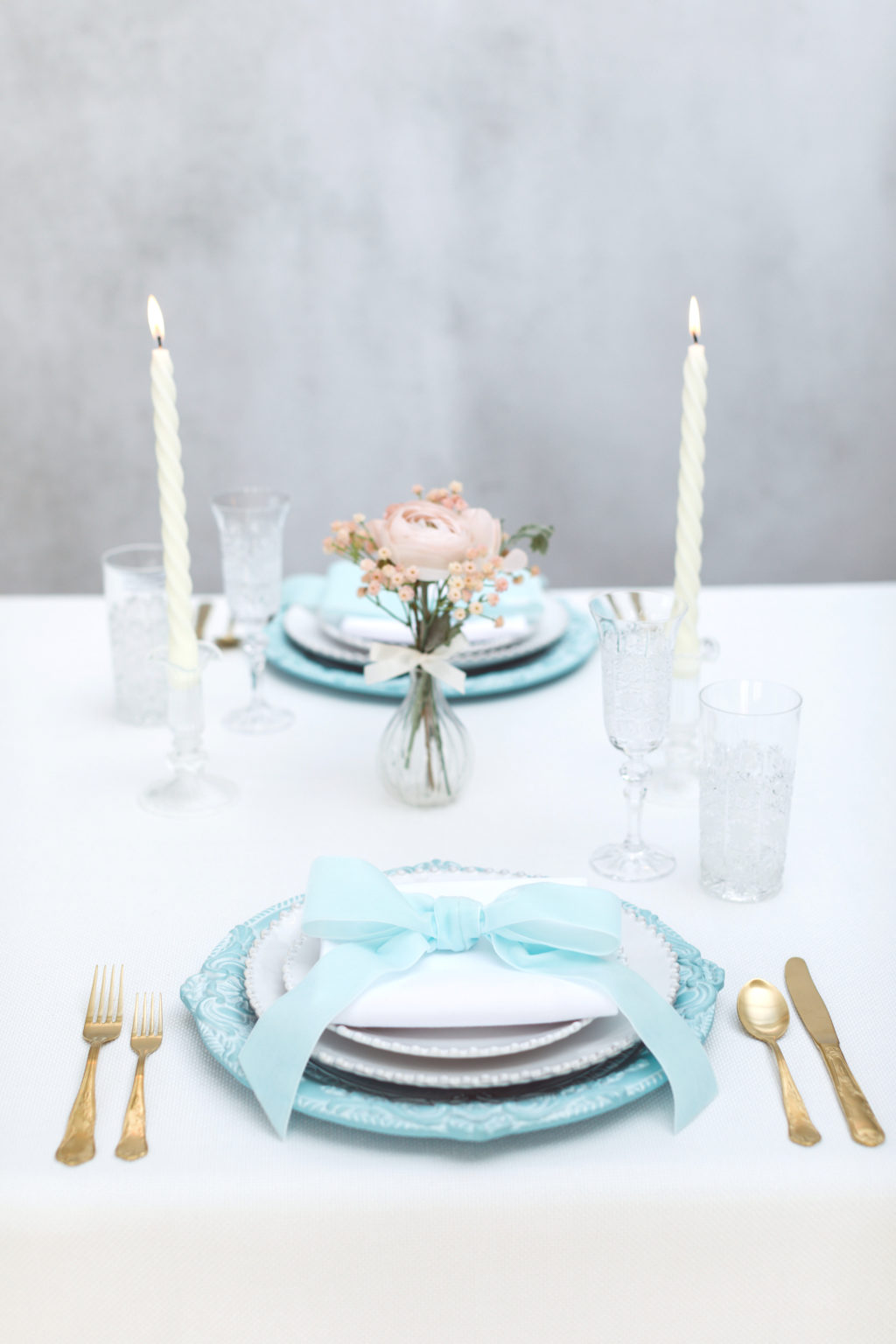 Personalisation
The most beautiful tablescapes are always the ones that have been designed with the guests in mind. Personalisation is, therefore, the most enchanting element to any tablescape and there are literally endless ways to personalise a place-setting. Consider personalised messages on a menu card, adding their favourite flowers in your table arrangements, you can even get your favourite song lyrics or quotes printed on your tablecloth or napkin. Incorporating a small gift into your table design is also a lovely sweet touch and will add a luxe feel to your overall look; think of it as a decorative accent to your table and work the gift wrapping in with your colour palette. It doesn't even have to be fancy, a cello bag filled with their favourite sweets and finished with a ribbon and name tag will is a simple yet pretty touch that will be greatly appreciated.
Practice and Preparation
It's easy to look at a beautifully set table and think that it's all come together seamlessly. In most cases, the truth is that the design has been planned, tweaked and refined endless times before the finished reveal. Setting the table ahead of time will allow you to plan your design and play around with your place settings.
To put it simply, the more time you are able to spend designing your tablescape, the more impact it will have on the day.
Music and Mood
Create a playlist of your favourite romantic songs ahead of your dinner, this will save valuable time skipping from one song to the next and leave you with more time to stare into each other's eyes (and also listen to all the compliments regarding the table!)
Duchess & Butler delivers a carefully curated selection of decorative items to create inspired, unique and beautiful tablescapes at home. They have created some brand new designs for Valentine's Day. Ranging in price from just £90, there is also the D&B range of glassware that featured in Netflix's recent romantic series, Bridgerton.