Geomag Classic is a construction kit that stimulates creativity and logical reasoning, and is perfect to keep children busy. Geomag Classic is an inventive system of simple construction made of 58 mm magnetic rods and steel spheres. A huge number of shapes, geometric figures and models can be constructed. The variety of the shapes and their transformations make it possible to create different structures continuously. 
The wonderful Geomag Confetti construction kit is the perfect introduction into the world of construction and creativity. It includes 83 pieces so you'll only need a few parts to create some amazing magnetic constructions. Full of vibrant colour the magnetic rods and non-magnetic and safe steel spheres come together to create a hundred of patterns, structures, and shapes.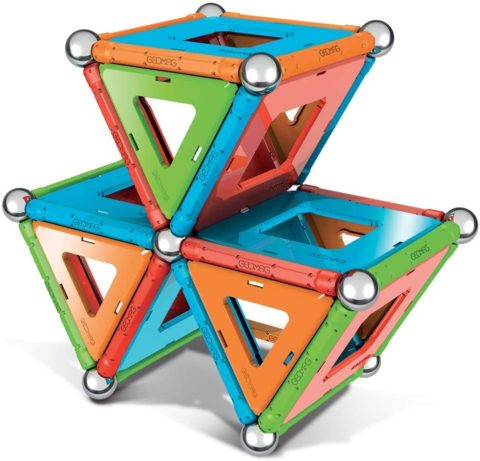 This set is both fun and educational. It stimulates creativity and logical reasoning and features all the components of STEM, (Science, Technology, Engineering and Mathematics) so is great for the whole family.
You only need to add imagination to the set and you can create unique constructions. Geomag magnetic kits are the perfect way to express your creativity. There is virtually no limit to the creations that you can make.
The Geomag Classis 356 Confetti 83 piece set costs £33.95 from Amazon.