The days will get darker quicker. The morning air will be crisp and frosty. But, that doesn't mean you can't grow some beautiful plants and embrace winter indoor gardening in all its glory.
Plants that thrive in winter
A good start to getting your indoor winter gardening in order is to find plants that embrace the chill and will survive well indoors. We would advise would-be urban gardeners to take a look at the following plants for their indoor gardening efforts.
Cacti
Cacti are generally sturdy and easy to care for. A plant like the Sansevieria requires very little nurturing and cleans the air in return for a bit of watering now and then. Think of it as a natural air purifier, toxins won't linger around and you'll have an on-trend houseplant too. As its name suggests, the Christmas Cactus is also a great plant to grow this time of year. If you leave its soil relatively dry and keep it warm around 20° you'll have a colourful cactus in no time.
Calathea
Unlike many other plants, the Calathea does not require direct sunlight, therefore these leafy growers can thrive in areas of shade or indirect light – perfect for the dark indoor winter days!
Flowering Maple
If looked after correctly, the Flowering Maple can bloom up to 5 feet tall and thrives indoors. As long as you don't let your room get too cold (below 18°) this plant will produce fiery blooms in a range of reds and oranges.
Bonsai Trees
In winter especially, these Asian beauties require very little water and they are always an eye catcher in any home. Pop them in the corner of a room to provide a slice of serenity in the cold urban jungle of winter.
Geo terrariums look good all year round
For pure aesthetics, investing in a geo terrarium is an incredibly smart idea. For those who have not seen these, they're glass spheres or geometric shapes that hold moss, gravel and leafy plants or cacti in to create a microhabitat for greenery to thrive. If you have the room, utilising thick rope to hang these from the ceiling is becoming one of the most popular indoor gardening trends that we expect to see boom in 2019.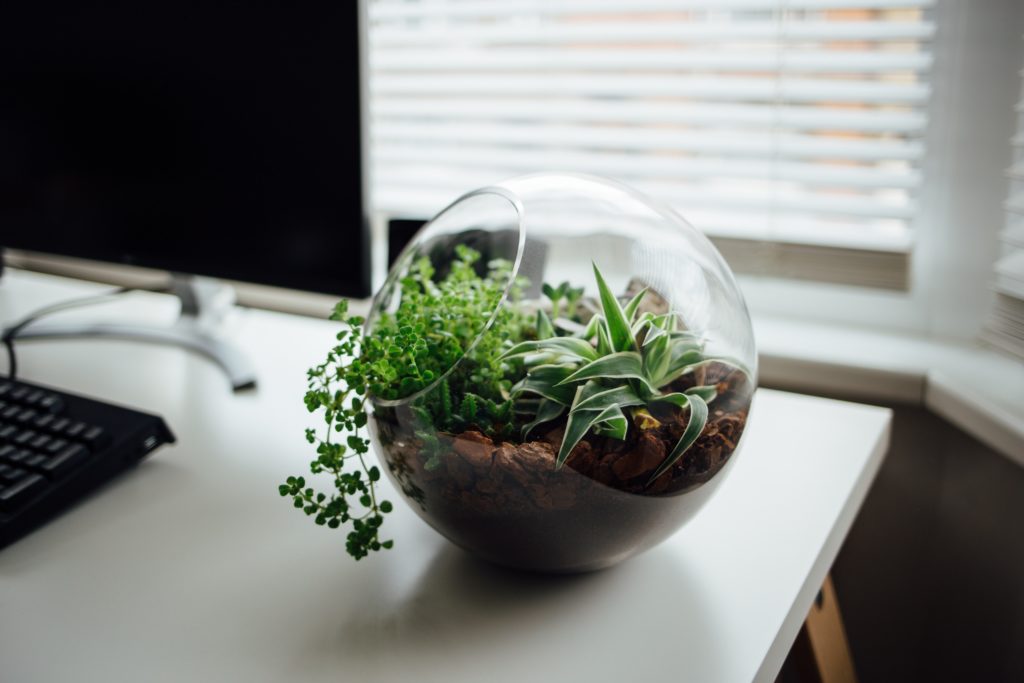 Winter cooling colours
Winter is all about colour palettes that compliment the white skies outside. We recommend going with charcoal blacks, slate greys and then pick a colour that will pop. These colours can be dispersed across planting and storage equipment or the plants themselves.
Planters in cuboid slate grey highlight any coloured plant within them. They look good in or outdoors and aren't overbearing on any other interior design present. Couple this with a range of the plants that bloom in winter and you have a complete look for this year's frosty indoor gardening.
Andy Baxter, MD of online gardening store, Internet Gardener