This Easter make some delicious Milk and Honey Easter Cupcakes. These cute and colourful cupcakes will be a lovely treat to make for Easter and both kids and adults will love them!
Ingredients for the cupcakes:
125g softened butter
125g soft light brown sugar
125g self-raising flour
2 large eggs
2 tbsp honey
1tsp vanilla extract
2 tbsp whole milk
1 tsp baking powder
Ingredients for the buttercream:
125g butter
250g icing sugar
2 tbsp honey
Small amount of blue food colouring
30 mini-eggs to decorate
1 square of dark chocolate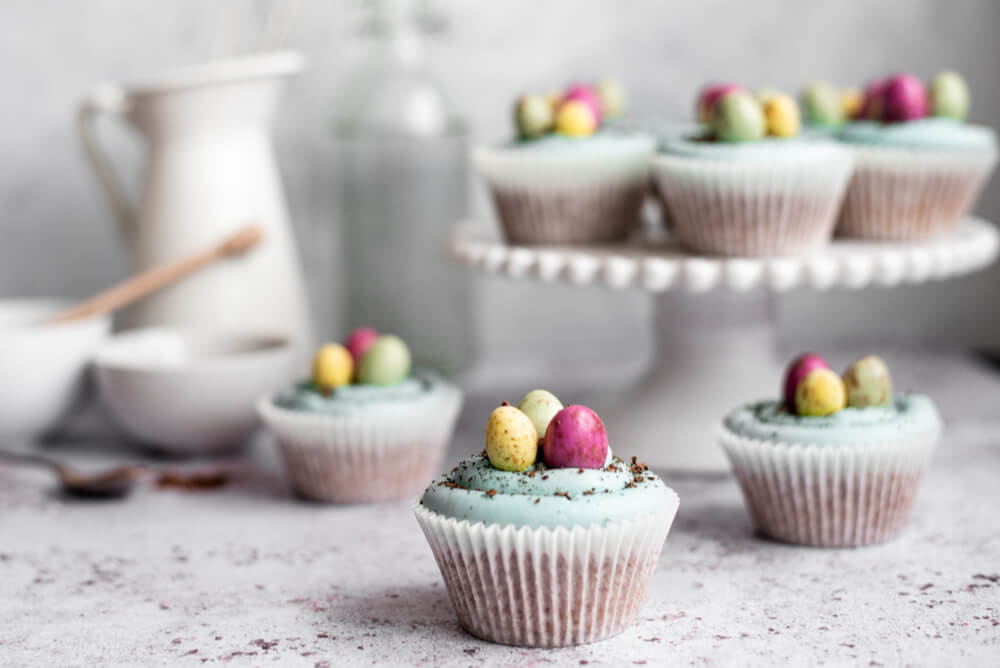 Method
Preheat the oven to 180 degrees C fan and line a muffin tray with cupcake or muffin cases.
Place the soft light brown sugar and the butter in a large bowl and cream together.
Add the eggs, honey, vanilla extract and a tablespoon of the flour into the bowl and whisk again.
Then add the remaining flour, baking powder and milk into the bowl and gently whisk until fully combined.
Once combined, evenly distribute the cake mix into each cupcake or muffin case and bake in the preheated oven for 15-20 minutes or until an inserted skewer comes out clean
Once baked remove from the oven and allow to cool on a wire rack.
While the cupcakes are cooling, begin to make the frosting. First beat together the butter, honey and icing sugar for 5 minutes until the colour lightens and the texture becomes silky.
Add a very small amount of blue food colouring and beat again until the colour is evenly distributed.
Once the cupcakes have cooled frost each cupcake with the buttercream and place three mini eggs on each to decorate.
Finely grate the chocolate square over the cupcakes to finish
This recipe for Milk and Honey Easter Cupcakes is courtesy of Honey Tradition.