To celebrate the traditional Mexican holiday Day of the Dead, Patrón Tequila presents Art of Patrón X Day of the Dead at the UNIT London in Mayfair on 2nd November.
Known as Dia de Muertos in Mexico, Day of the Dead is a celebration of life, remembering the dead and honouring ancestors with love and respect. With every celebration comes a toast. What better way to toast this colourful and authentic Mexican festival than with Patrón – the world's finest, ultra premium tequila.
To help commemorate this joyful celebration of life, the evening will play host to Day of the Dead inspired Patrón Tequila cocktails and masterclasses, live art installations, and make-up stations, alongside a top DJ with Mexican heritage playing epic latin beats. Art of Patrón will take you on an immersive and colourful journey of authentic Mexican heritage, through the lens of the world's finest tequila.
Guests will enjoy specially-created Patrón Tequila Day of the Dead cocktails.
In the heart of Mayfair, UNIT London is a contemporary art gallery based just off Hanover Square. Founded by two young artists, Joe Kennedy and Jonny Burt in 2013, it has quickly become a significant gallery on the London art scene and the perfect venue for Art of Patrón, London.
On the night, London's DJ Tasty Lopez will be on the decks. With her Mexican heritage and a specialist knowledge of Latin beats, Tasty Lopez will take you through the evening with a wild mix of electronic, bounce, house, funk, soul and nostalgia.
Guests will enjoy specially-created Patrón Tequila Day of the Dead cocktails including: El Diablo – Patrón Silver tequila, lime, ginger beer and Crème de Cassis; Panteon Margarita – Patrón Silver tequila, Patrón Citrónge, vanilla syrup and lemon; Boxcart – Patrón Reposado tequila, Patrón Citrónge Orange liqueur and lemon; Sweetcorn Old Fashioned – Patrón Añejo tequila, Caramel sweetcorn syrup, bitters and Zest Appeal – Patrón XO Cafe, lemon and ginger beer – all paired perfectly with Day of the Dead Mexican canapés.
As each Patrón bottle is a unique work of art, and inside every bottle of Patrón is a liquid masterpiece, Patrón will host Day of the Dead experiential masterclasses to run on the hour, providing the opportunity to learn how to make one of Patrón's special Day of the Dead cocktails at home.
WHEN: Friday 2nd November 2018, 19:00-23:30
WHERE: 3 Hanover Square, Mayfair, London W1S 1HD
TICKETS: £15 includes entrance to the event, x3 complimentary cocktails and experimental masterclass
Please find below one of the wonderful recipes from premium tequila maker, Patrón Tequila that you can also try in your own home.
Panteon Margarita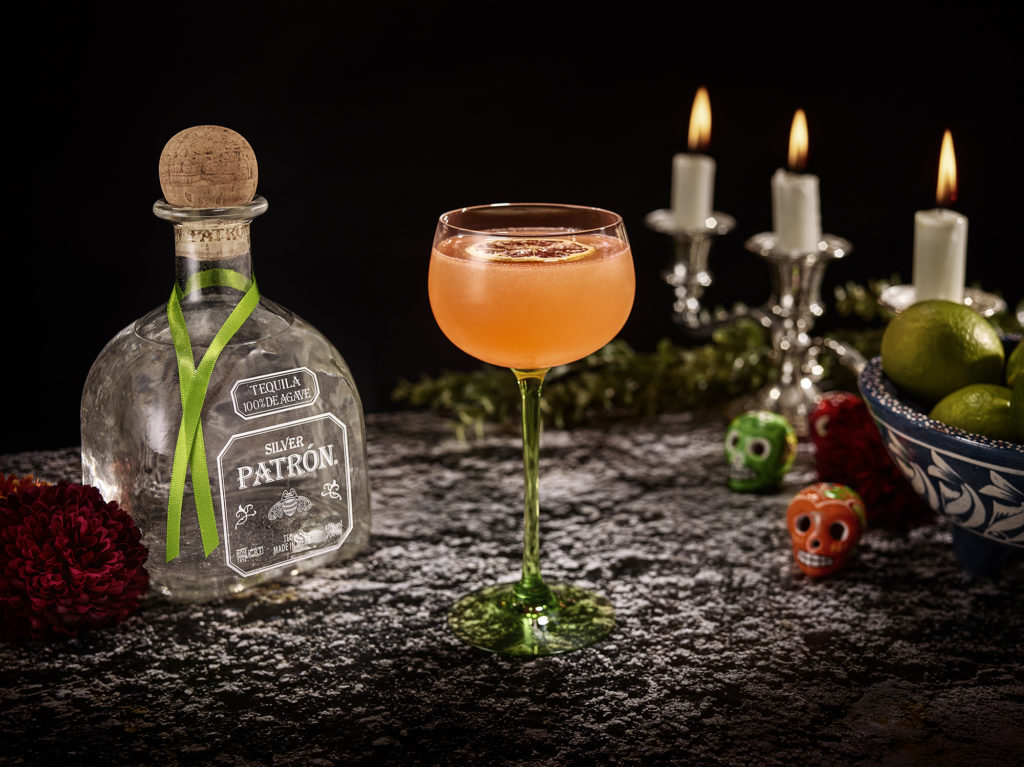 Ingredients
50ml Patrón Silver tequila
15ml Patrón Citrónge Orange liqueur
20ml Cenpazuchil syrup (or Vanilla syrup)
15ml Lemon
Garnish with dehydrated blood orange wheel
Method
Add all ingredients to shaker, shake and strain into a glass