Send Them Cupcakes is a family run e-commerce bakery who deliver fresh tasty cupcakes in the United Kingdom. They have a wonderful range of cupcakes to choose from.
They use the finest and most natural ingredients they can find and make these delicious cupcakes 100% from scratch.
Send Them Cupcakes have a great range of Easter cupcakes to choose from so you can enjoy something a little bit different from the usual chocolate Easter eggs.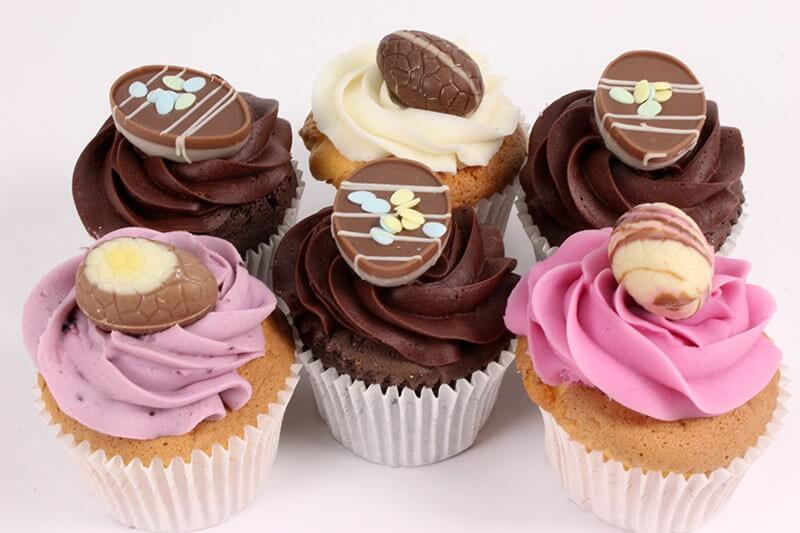 The Box of 6 Easter Eggs Gift Box is a wonderful treat to give someone this Easter. All these cupcakes are baked fresh daily and are hand decorated with a mix of Chocolate, Strawberry, Blackcurrant and Vanilla swirls. Each are then topped with a chocolate filled Easter egg. Anyone would love to receive these large sized cupcakes for Easter. The RRP is £16.90.
Another fabulous gift box is the Belgian Easter Egg Cupcakes, which are perfect for chocolate lovers. This scrumptious box of Belgian Chocolate Cupcakes are each topped with a galaxy, Rose Gold Egg in a crisp shell. Each freshly baked cake is made with rich chocolate cake and then topped with swirls of Belgian Chocolate Ganache. These cupcakes are presented in a cupcake box and a personal message can be added to the gift. This gift box is ideal for anyone who adores chocolate. The RRP for a box of 6 is £15.90.
Send Them Cupcakes have wonderful range of cupcakes for Easter including cupcakes topped with novelty decorations such as bunny rabbits and chicks. These are ideal for children, as well as the young at heart!
They also have a wonderful range of cupcake gifts for other celebrations and events throughout the year.