Recently launched in the UK, the Vaya Tyffyn is perfect to use on cold, winter days. As the temperature drops, it's time to swap your salads for warm, hearty soups and comfort food and the Vaya Tyffyn lunchboxes allow you to do this with ease.
Vaya Tyffyn lunchboxes are available in sleek, stylish designs to suit all personalities. They are as stylish as they are functional. The vacuum-insulated lunchboxes enable optimum temperature to carry warm or cold fresh home-cooked meals for up to six hours. This means you can take your lunch to work in the Vaya Tyffyn lunchbox and do not have to worry about reheating your lunch as it will stay warm.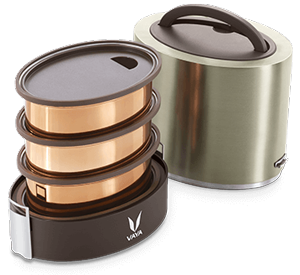 Another brilliant feature of the Vaya Tyffyn lunchboxes is that they have various partitions in them so you can keep food separate and are not left with a messy, mixed up lunch. These partitions allow you to carry more than one dish in each container. The 600ml lunchbox has two spill-proof containers that allow you to carry up to four dishes, and the 1000ml one has three containers that can accommodate up to six dishes.
LUNCH WAS NEVER THIS EXCITING!
Other fabulous features of this lunchbox include a convenient collapsible handle, leak resistant lids with integrated gaskets for easier cleaning, a heat–protective finger grip so you can easily hold the containers, and stainless steel pressurizing latches so the outer and inner containers can lock together.
The Vaya Tyffyn lunchboxes will transform how you take lunch to work. These vacuum insulated lunchboxes kept my food warm until lunch and the partitions are brilliant for keeping my different dishes separate. I prefer taking my own lunch to work and love how this lunchbox allows me to not only take food that stays hot but that allows me to take different dishes and not have them all mixed together. I enjoy my packed lunches much more since using this lunchbox.
There are many different designs available so you can choose the best design for your own personal style. Vaya Tyffyns also come with containers in two different finishes. Copper-finished containers add a touch of class to the Tyffyn while the Polished Stainless Steel Containers are perfect for those who like to keep things simple.
The Tyffyns are available in two sizes: 600ml and 1000ml. The RRP for the 600ml is £40.00 and the RRP for the 1000ml is £45.00.