Viners has introduced a wonderful new collection of pans that will suit a wide range of needs and lifestyles. Viners pans are designed in the UK and the new collection offers two fabulous ranges; Forged Aluminium and Copper Base.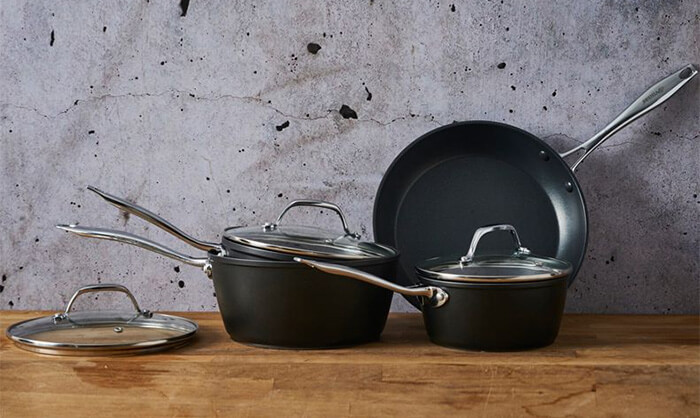 The Forged Aluminium pans are fantastic. These stylish pans have a matt black appearance and stainless steel accents. Each pan is made from precision forged aluminium for added durability and feels lightweight when you use them. These pans are suitable for all hob types including induction hobs and heat rapidly for efficient cooking. I have tried the forged aluminium pans and I think they are brilliant. Not only do they look stylish but they are also really easy to clean. They have a double layer non-stick Whitford coating that means food does not stick to them and makes cleaning them extremely easy. These pans are also dishwasher safe. There are different pans available in this range so you can have the whole set in your kitchen to ensure you can easily cook any dish you want. The sizes and styles available are:
16cm Sauce Pan with Lid RRP: £24.00
18cm Sauce Pan with Lid RRP: £27.00
20cm Sauce Pan with Lid RRP: £29.00
24cm Casserole Pan with Lid RRP: £36.00
24cm Fry Pan RRP: £24.00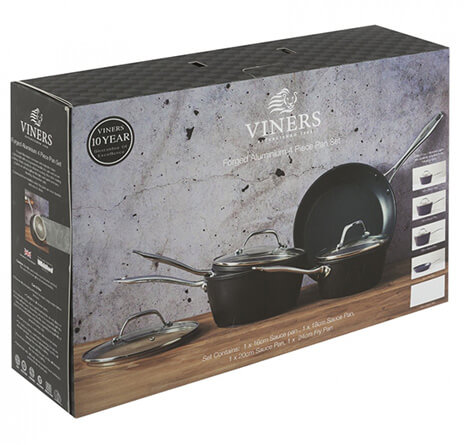 You can also purchase a 4-Piece Gift Box Set that includes 16cm, 18cm, 20cm sauce pan and fry pan RRP: £105.00
Another fabulous pan set from Viners is the Copper Base Pan Set. This collection features a striking contrasting design with a stunning copper-plated base teamed with a high shine mirror finish. These Copper Base Pans are incredibly practical in the kitchen and the bonded copper base distributes heat quickly and evenly. These pans have riveted handles for strength and durability and each pan features internal measurement markings as a guide when adding liquids. Unlike the Forged Aluminium Pans, the Copper Base pans are not suitable for induction hobs but can be used on any other hob. The fry pan in this set features a non-stick, double layer Whitford coating which is great for easy cleaning.
The pans available in this set are:
14cm Milk Pan RRP £22.50
16cm Sauce Pan with Lid RRP £29.00
18cm Sauce Pan with Lid RRP £33.00
20cm Sauce Pan with Lid RRP £37.00
24cm Non-Stick Fry Pan RRP £42.00
26cm Stock Pot with Lid RRP £52.50
Both the Forged Aluminium and Copper Base Pans are perfect additions to your kitchen. These pans are durable and stylish and will help you cook food beautifully. Anyone who enjoys cooking at home will love these pans.